---
1998 Champion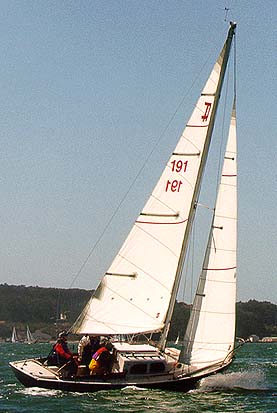 Photo: Mariah's Eyes Photography (510) 864-1144
#191 PARRANDA
SKIPPER: Hugh Davis. Cal Sailing Club
CREW: Peter Thompson, Jonathan Gutoff, Mark Showalter & Pete Rowland.
COMMENTS: This was Hughs second year competing in the fleet. It was pretty clear from the results that Parranda was the fastest boat in the fleet.
SKIPPERS QUOTE: "New sails and a loyal crew were the keys. I motivated them by promising I'd buy an Antrim 27 if we won - just kidding"
OTHER FINISHERS: 2nd Place: PATHFINDER, Ed and Lisa Ekers; 3rd Place: JUBILEE, Don Morrison; 4th Pace: Lickety Split, Joe Antos; 5th Place: LADY J, Gene Roberts.
---

Back To Champions

Home

About

Facts & Photos

SF Bay Fleet

Registration

Contacts


Maintenance Alerts!

Discussion

Links

Send mail to Ron Phelon with questions or comments about this web site.