---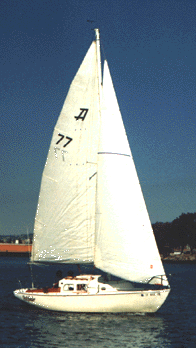 ---
#77 PATHFINDER
SKIPPERS: Ed and Lisa Ekers, Sata Cruz YC
CREW: Joe Antos, Hugh Davis and Earnie Rideout
COMMENTS: Ed, A retired fire chief from Santa Cruz, and Lisa, a civil engineer, won the championship for the second year in a row. The fleet fielded three new boats this year.
SKIPPERS QUOTE: "The competition gets tighter each season, you now have to sail a perfect race to win. Crew work makes the difference... and our crew was exceptional."
OTHER FINISHERS: 2nd Place JUBILEEE, Don Morrison, Richmond Yacht Club; 3rd Place: PARRANDA, Hugh Davis, Cal Sailing Club. Total of nine boats entered, five qualified.
---

Back to Champions

Home

About

Facts & Photos

SF Bay Fleet

Registration

Contacts


Maintenance Alerts!

Discussion

Links

Send mail to Ron Phelon with questions or comments about this web site.